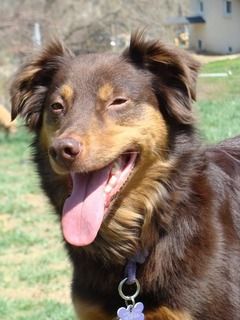 We went and saw Sherlock Holmes today, since we got some gift cards for the movies for Christmas. John wanted to see Avatar, but that was sold out. It's been a while since we've been to the movies...but I was a very good boy. Mom brought me a comfy bed (I got a new one for Christmas!)...and I settled in, after a few pieces of popcorn (what's a movie without popcorn!?!)
I did really like the Kraken monster in the trailer for Clash of the Titans...but then I fell asleep through Sherlock Holmes.
The movie was sold out also, and there was a teenage boy sitting in the row of chairs near the accessible spot. So John pulled in, got me settled, and we asked if he could move, so we could all sit together. He wasn't sure what to do...but once his friends/family all showed up, they very nicely found another set of seats.
After the movie, we went to Starbucks so John could get a hot chai. A woman near the doorway said, "oh, how did the dog like the movie?" John said, "he slept through it...he usually does." She explained that her son was in the movie theater with us, and saw me...and told his mom about me. John was very nice and let the son give me some petting...as they were very polite. I enjoyed the petting! I love saying hi to people!
Now we're home, and I'm crashed on the couch next to John...it was a busy day!
~SDS