I'm working on a long story, which I think you'll all be interested in...but I'm taking a nap on the couch at the moment. So I'm turning the blog over to Score to post some random pics. Enjoy!
~SDS
Hi Guys! Score here! Mom said I should post some pics of the critters...so that's what I'll do! We've got some new critters...I'll introduce you to them.
Here's the new bunny...his name is Castle. He's a tortoise mini rex. He's really F-A-T. He likes to climb the stairs. He climbs the stairs better than some of our doggy friends (like WhoBe).
Fry and Pippin are best buddies...
Thorn is the Queen of the house...
Fry likes to snuggle with all of us...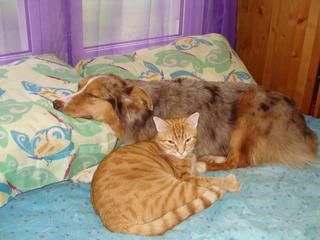 Fry snuggles with everyone...
Me (Score) n' Pippin taking a nap.
Loooooonnnnng cat:
See you guys later!
Score