Mom made a new up a new batch of treats today...with a recipe that she came up with. They're so good, I wanted to share the recipe with you all. She named them for Xander (Xanderoo-roo) because he LOVES peanut butter treats. They're his favorite. He drools when peanut butter comes out of the cabinet...he even blows big drool bubbles (it's really gross). So Mom said that they're his Super-delicious brownies...but we can all have some too.
Even Xander's Giant Black-Tri Doppleganger, Jordan the Monster Aussie can have some!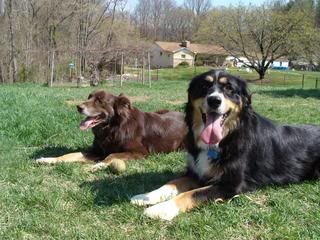 Roo's Super Brownies:
2 cups Quick-cook oatmeal
1 cup all-purpose flour
dash cinnamon
1/3 cup oil
1 1/2 mashed banana
1/2 cup peanut butter (melted in microwave)
3 large eggs
1 Tbsp. molasses
Set oven to 350 degrees. Whisk wet ingredients together in a large bowl. Add dry ingredients and mix well. Spread on a greased cookie sheet and back for 15 minutes. Cool, cut and serve or freeze.
Enjoy!
~SDS
No Denver, you can't have any!
(Mom says he does get some...no matter what I say.)