I hope they don't make me wear a pointy hat again this year. I wonder where I'll get to go for my birthday...and I wonder if restaurants will bring a free dessert to the birthday boy if he's laying under the table. So many thoughts today!
It's a lazy day, no plans at all. Maybe John and I will watch a movie while Mom does something else (we don't really know what else she does, except periodically get in the way of the TV with a broom in her hand). It'll look like this later: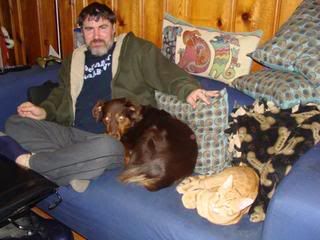 Right now though:
Inara is upside down on the futon couch, completely asleep.
Fry is sitting on the computer (mac mini) watching the small birds on the feeder...and the crows walking around.
Xander is asleep in the other room.
Score is curled up on the couch, sleeping.
Ripley is outside sleeping under the bird feeders...or watching the crows also.
Thorn is upstairs asleep somewhere...who knows what cats do when they're not in sight.
Sounds like the start of a good day, doesn't it?
Happy Sunday to everyone!
~SDS