Mom says that a great thing about us dogs is that we can enjoy every little thing in life. Well, she usually says it in a sarcastic manner...and actually says "They're so easily amused". Same thing, right?
One thing about being a Service Dog is that you have to really enjoy the job. I may not enjoy every little thing, but I enjoy the majority of it. I posted the other day about Hogan, the former Service Dog. He wasn't cut out for the life of an SD...because there was too much that he didn't enjoy.
I love being a Service Dog. I love being "On-call" for John. I love being with my human all day, every day.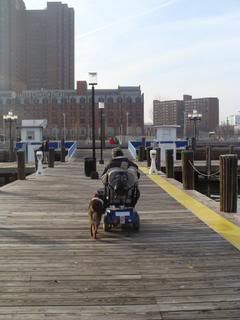 Part of that job is going out in public, which is a big problem for many dogs. I love it. Being an Aussie, I love to have a job of course, and I love to keep busy. I can entertain myself even on my down-time. Here I am people-watching at the Inner Harbor in Baltimore...the humans were having lunch, and I was under the table watching everyone below me.
A good Service dog is confident, happy and enjoys the little things.
~SDS