We heard today from one of my former "brothers". Hogan is a large standard poodle that was in the Fidos program...he was being trained to be a Service Dog. He lived with us for many months during his training, a few years ago, and we all loved him! He was such a nice guy to have around...(mom particularly loved his ability to do a nice stand and brace so she could get off the floor easily.
Hogan however did not want to be a Service Dog. Sure, he did everything he was asked, but his heart was never in it. At home, playing ball, being "just a dog" he was happy, tail constantly wagging, smile on his face. In public, working, his tail was down, no smile, just trudging along doing his job. Certain things freaked him out a bit too...nothing he couldn't have worked through, but combined with his apparent lack of interest in working...well, he had a change of career.
He got adopted by a wonderful couple in Pennsylvania...and lives the life of luxury. He gets to be loved on by all the kids in the neighborhood (we hear that the kids come ask if "Hogan can come out and play")...he gets spoiled by his new mom and dad...he gets to be happy.
Here he is telling Santa what he wanted for Christmas!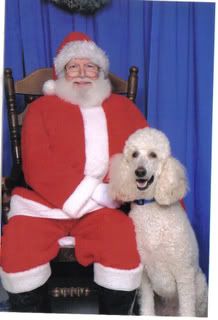 Mom says that Hogan is the one she truly misses...he was such a good boy! But she knows that he's loved dearly...and that he is the center of attention in his new family. He's got everything a dog could wish for!
Good to hear from you Hoagie!
~SDS